About Me +
This page may be titled "about me," but it is really "about us." I am blessed to have a lovely Godly wife who has traveled with me around the world and back again – and often it wasn't easy. So, it truly is "our" story.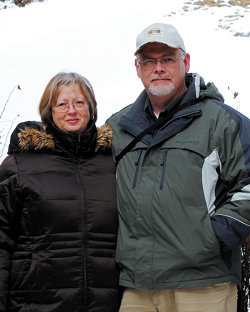 Hello there, this page contains a bit of information about me and the technical makeup of this web site. I'll try to keep is short and sweet… but no promises!
My name is Randy Nicholas. I am the owner of this site and author of the majority of the articles found here. The lady in the picture is my wife, Dawn. We have been married for over 40 years and have two grown children, whom we love very much. We also have a little Maltese dog named Sassy who was born in Czech Republic. FYI, this picture was taken in Sinaia, Romania near Castle Peles.
I have been actively engaged in Christian work through the "local church" for a very long time. We served as full time IMB missionaries to Eastern Europe from 2009 – 2012. We lived in Romania and Czech Republic. We also worked some in Slovakia. Our primary job involved church planting, but we also were members of the European Affinity Strategy Training Team (IMB). Our main people groups were the peoples of Romania and the Romani people in multiple countries.
I also served on several volunteer mission teams from 2001 – 2009. I worked in Romania, Tunisia, and Brazil during that time frame.
I am also a computer technician and web developer. So, you guessed it… I built this site. I still do some web development for my current ministry employer, CEF of Greater Jackson.
Dawn and I graduated from Union University in Jackson, TN. After returning from the mission field, we made the decision to become full-time students again and finish our bachelors degrees. We completed our degrees in December, 2015. My degree is the Bachelor of Science in Organizational Leadership (church leadership emphasis). I was able to finish with a 3.96 GPA, Summa Cum Laude. Dawn has the same degree, but with an emphasis in medical management. She too finished with the Summa Cum Laude designation.
Now, allow me to tell you a bit more about CEF. Child Evangelism Fellowship is the oldest and largest evangelistic children's ministry in the world. We have a presence in nearly every country in the world and I am blessed to lead that ministry in several counties in West Tennessee.
At times, I am still surprised and amazed at how God would allow me to have the experience of working with two international ministries. I am truly thankful for this reality.
If you have any questions for me or about this site, please use the contact form to send me a message.
About My Worldview
Please know that I look at the world through Christian eyes. I am a Baptist missionary. More important than that, I am a follower of and believer in Jesus Christ. I am not perfect nor claim to be. However, I believe that my life experience, faith in God, and directed purpose empower me to share Good News with you. My blog posts and articles are designed to share my thoughts on various topics, while simultaneously challenging your thinking. I know that some people may not agree with my thoughts on spirituality. That is ok, but I hope you will read them with an open mind. I do not intend to offend anyone but must be true to my faith and purpose.
About This Web Site
This site is built with WordPress. The site theme is a modified version of the Kadence WP Theme which is an awesome free theme. I will try to use free plugins and other resources to keep this personal site moving along. Additionally, this project is built on a Oracle Cloud Free Tier virtual machine instance using Webinoly as the server technology. So, as of this writing, (other than the domain name) the whole project is completely free to me. How cool is that???