Get Restored
This page contains VERY POWERFUL free resources that can change your life… if you let them. I did not create them. I am simply passing them along. Dr. Neil T. Anderson, Daily Audio Bible, and E3 Partners are responsible for the creation and dissimination of the materials listed below.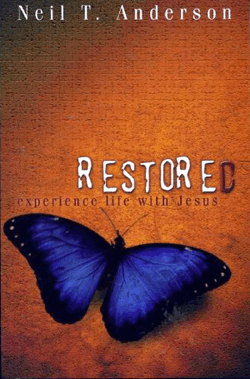 This awesome audio book can revolutionize how you see yourself as an adopted child of God and if you are not saved, it can show you the way to achieve a restored relationship with your creator, God the Father. This information was made possible by the good folks at e3 Partners (find out more about E3 by visiting their web site).
A few years ago, I stumbled upon this resource at the DailyAudioBible.com web site (visit the DAB web site to find out more). It is a ministry of Brian Hardin (find out more about Brian by visiting his Facebook page), who lives in my home state of Tennessee. While looking around his site, I discovered a set of audio book / interview files called "Restored" by Dr. Neil T. Anderson (visit the Amazon web site if you would like to purchase Restored by Dr. Neil T. Anderson). Brian sets up the audio sessions with a personal interview with Neil and then reads the entire chapter included in the particular file. This series has eight MP3 files which are around 40 minutes each. Over the last few years I suppose I have listened to these audio files over ten times.
Recently as I was prayer walking, I decided to start through the book again… it refreshes my spirit every time I do this. I went through chapter 1 and enjoyed it all over again. This made me think that maybe some of the good folks who visit my little blog / ministry site might also enjoy these resources. So, I dedicate this page to the book and resources of "Restored."
The files provided below were distributed freely on the DailyAudioBible.com site where I originally downloaded them and I am simply providing them for you here to have easy access to them. They are not to be sold, however Dr. Anderson mentions in one of the audio files that he would be happy if people gave them as gifts to their friends… thank you Neil and may God bless you… and thank you Brian for allowing us to get them from your site.
Please take a moment to send me a quick message if you discover these files to be a blessing in your life. I have listened to them multiple times over the years and they always help me gain a right spiritual perspective. You can use this form to email me. Thanks and remember, if you are a true believer in Jesus Christ, you are an adopted heir to the Kingdom of God.