I have met a few professional musicians and singers, mostly those connected to the Gospel music industry. However, I normally don't get to sit down and have lunch with them and talk about ministry and life. I got that opportunity yesterday in Cool Springs (Franklin, TN) when I met Guy Penrod.
A good friend of CEF of Greater Jackson, Dr. Jerry Drace, made the connection for me and accompanied me to meet Guy. I am truly grateful that Jerry has been willing to share his time and influence to help strengthen our local CEF chapter. There and many people in ministry that will not do this for various reasons, but I suppose God makes the connections when He wishes. I am glad that He is working in this situation. See the photo below that I took yesterday of these two men of God.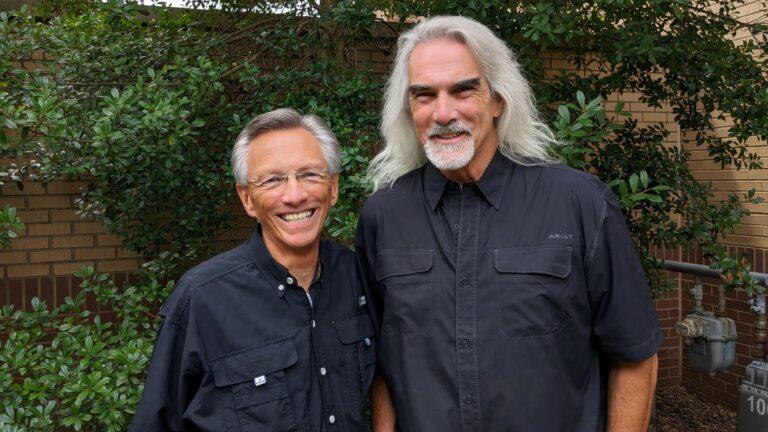 I am also VERY grateful that Guy agreed to help us with a fundraiser this Fall as we try to bolster our local CEF chapter's budget – which – will allow us to reach more children with the Good News of the Gospel of Jesus Christ. Guy is a gracious man and does not present himself in a haughty way. I really appreciate that a lot. Often, people that have his status forget how to remain humble and approachable. He is a tall fellow (around 6'3″) and has the ability to make you feel "at home" rather quickly. That is another attribute that is not always the case with those in the entertainment industry. I loved to hear the stories he told about things he has experienced throughout the years. I wish I had the time to tell you one about the White House, George Beverly Shae, and the Queen of England 😉
Well, allow me to finish this post with a word of encouragement. Brothers and sisters in Christ, stretch yourselves and use the talents that God has given you. You never know how He may use you in this world or the things He may allow you to witness – for His name's sake. I feel confident that in the '80's when Guy Penrod was a backup singer, doing studio work for people like: Carman, Steve Green, Amy Grant, Michael W. Smith, Garth Brooks, and Shania Twain… he probably didn't dream that he would win a Grammy or Dove Award, but he has. I wonder what God wants to do with your life?
Scripture tells us that God orders our steps (Proverbs 16:9), just allow Him to do it… amen.