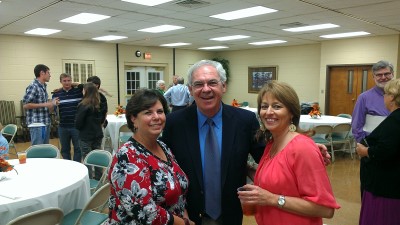 My goodness. Last evening Dawn and I were blessed to be in attendance at a commissioning service for long time friends, Kevin & Lisa Kail. I have known Kevin since we were small children and I met Lisa a while later. They are awesome people and last night during the "verbal foot washing,"this became very evident to all who were there. Person after person testified about the impact that the Kail's have had on their lives. This was especially clear concerning their involvement in the lives of the young people at First Baptist Church in Humboldt, TN… their home church. By the way, Bro. Greg McFadden and his congregation did an outstanding job of showing them love and assuring them that they would "not be forgotten" while they are on the field.
During the evening, I was a bit overwhelmed by old memories and thick emotions that ran the gambit of what a fella can stand! Most of them were good though and made me smile often. There were several missionaries, past and or present, in attendance. Specifically concerning Romanian missionaries, there were 9 present: Kevin & Lisa Kail, Bob & Gayle Hill, Mike & Kathy Kemper, Dawn & I, and Rob Dixon. I sat and listened to Rob and Bob and the memories started wafting through my mind:
Rob Dixon – I recalled that time when I was in his small apartment in Bucharest in 2001 ( I think it was 2001) and how his colleagues said he was gifted with language and could speak fluent Romanian in just a few months.
Bob & Gayle Hill – I remembered the time that Dawn and I were so alone and lonely during our first Christmas in Romania as full timers… and they invited us to their apartment to share in the day with them. They will NEVER know how much that meant to us. It was a God send.
Mike & Kathy Kemper – I don't know which memory to share, Mike has been like a spiritual dad to me for many years. He has always been an encouragement and specifically considering a BIG moment in our relationship… I remembered that time back in 2000 in Humboldt, TN, in a video rental store when we "bumped into each other" and he asked me to consider going with him to Romania later that year to help document an effort to begin a partnership between Gibson Baptist Association and Bucharest Baptist Association to reach the Romani people group. Just the though doing that started butterflies in my stomach that didn't stop for many months. Honestly, they never completely left. ;o)
Kevin & Lisa Kail – about Kevin, I remembered the summer when he and his family invited me to go with them to Florida for a few days. We were all good friends and this was a huge thing for me because at that point in my life, the farthest I had been was the Tennessee River to fish with my folks. Seeing Florida and the ocean was very nice! I was a young kid at the time. Now, for Lisa, I remember a lot about this lady! One specific memory was when Dawn and I joined her on a short term trip in 2007 and how Lisa was very gracious with us, understanding that one reason we came along was to allow Dawn to experience the ministry as a first timer. I also recalled the time that we were able to treat her to a nice supper meal at the "Irish Reset Pub" in Braila where we lived at the time.