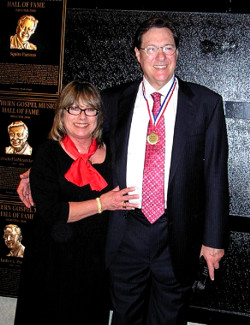 Music has a way of opening up doors in the hearts of people. I truly believe that God touches "some" people to pen words that grip us in emotion and encourage us to look deeper into the meanings of life. Some of those words and melodies attack our senses in a physical way and some touch our souls. This article is a tribute to a man who has touched my soul many times with his songs. I have been blessed to meet Squire Parsons personally an a few occasions and as the scripture mentions, his spirit bears witness with mine. This may be the highest compliment that I can pay to him.
I recall the first time we met when I was a part-time music director at Chapel Hill Baptist Church in Milan, TN. Chapel Hill is still my home church, by the way. This was in the early to mid '90s if I remember correctly. At that time, our church was not a big church but we decided to host our very first Southern Gospel concert and invited Squire to come and minister to us. Squire was and is a gracious man with a gentle spirit. Even though he is tall and a big guy, I felt very comfortable talking with him and visiting with him. He is so talented and a gentleman too. I can't say that about all of the musical talent I have met over the years.
One of the reasons I was prompted to write this article today is because of something that happened yesterday… here in Czech Republic. Recently, I made arrangements with Nancy G. at his office to purchase a set of original soundtracks for Squire's "Anniversary Collection." Nancy was so kind and we worked out the details and she emailed me the tracks. Yesterday, I was blessed to be asked to sing and preach at a local Salvation Army Church here in Brno. I used two of the new tracks to sing with… "I Sing Because" and "I Call it Home." Now, you have to picture this in your mind… I am singing to a small group of people who, for the most part, have no idea about what I am saying since I am singing in English. The SA officer helped me explain a little about the songs but the most important thing is the people there heard and felt the intent of my heart… through Squire's songs. After the service, I had some of the people talk to me through the officer (who speaks English) and compliment me greatly on the songs. Even though they did not understand the words, they got the message.
You can find out a lot more details about Squire and his ministry by visiting his web site here. Squire has written more than 800 songs and more than 500 of them have been published. He has won numerous Southern Gospel awards through that industry's organizations and has been nominated for Dove awards. Squire is also an ordained Baptist minister. The photo used for this article is from an occasion when Squire was inducted into the Southern Gospel Music Association's "Hall Of Fame" in Pigeon Forge, TN. in 2008. He is pictured with his wife Linda. As I finish this article, I just want to say a sincere "Thank You" to a man who has blessed my life many many times over the years. Squire… God bless you and thank you sir.
Here is a track that many of you may have never heard and is a sort of hidden final verse to "Sweet Beulah Land." Squire is singing it. Enjoy.