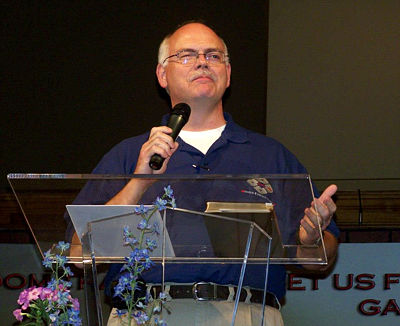 My apologies for the lack of communication here in cyberspace! I really must do better at keeping you up to date. So, from this point on, I will try to post more information and at least give you a monthly update on things. In a feeble attempt to explain why I have been a bit silent, we have been busy with so many things. After moving into the mission house here in Jackson, we felt compelled to do a few things to "spruce up" the place… so to speak. We felt this only right considering the good folks at Woodland have made the home available to us. They have indeed been a blessing! Also, we have spent a lot of time with our two children. I cannot explain how wonderful it has been to simply have them around us again. There is simply nothing like the loving hug from your kids! Gosh, I guess I am letting my sentimental side show a bit… but that is ok. I love my kids dearly and am blessed to once again be a part of their lives. We have also reconnected with other family members and church friends.
Concerning my search for a formal ministry position, this is ongoing and nothing serious is on the horizon yet. I am trusting the Lord with that and know He will provide the right opportunity when His time is right. I would ask you to continue praying about that situation. Pray for our patience and trust in the Lord to remain strong. Now, let me tell you a few of the opportunities we have had since returning home… in bullet form:
We had an opportunity to share with our home church about our ministry and work in Eastern Europe. See the picture above 🙂
I shared my ministry experiences with a RA group at Northbrook Church.
We drove to Northern Mississippi to visit with missional friends, Richard and Wanda Clark.
I had an opportunity to share about missions at a local radio station in Milan, TN with some of our church staff folks.
We drove to Middle Tennessee to visit with some dear missional friends, Wes and Katie Franklin.
I enjoyed attending a men's conference at our home church where we had some great speakers… including Johnny Hunt and Steve Gaines.
I have had opportunities to visit with and share about my desire to serve the Lord with two Director of Missions in my local area.
I have also been able to share this same information with a few pastors both here and in other states.
I was able to share with my home church about our involvement with Operation Christmas Child. We were able to assist with distributing over 2000 shoe-boxes when we were in Romania.
We have had several opportunities to have more intimate conversations and meals with ministry friends and church members.
I have had the opportunity to reconnect deeply with my pastor and friend, Dale Denning. This is important because as my pastor and friend, he really needs to know my heart about ministry direction. This way he can help me with the proper encouragement and prayer support. We have been down many many roads together… 🙂
Well, that is a sampling of some of our activities and I am thankful that we have a few other speaking engagements already on the horizon. I do love to share about missions and ministry! Well, for now… let me sign off. God bless you and thank you for your prayers and support… amen.