Roma are a subgroup of the Romani people (also known as Gypsies), who live primarily in Central and Eastern Europe (including Italy), as well as in the Balkans and Western Anatolia, and as recent immigrants in Western Europe and the Americas. Roma is also used as a synonym for the whole Romani people.
Roma live often in depressed squatter communities with very high unemployment, while only some are fully integrated in the society. However, in some cases – notably the Kalderash group in Romania, who work as traditional coppersmiths – they have prospered. Many former Eastern bloc countries have substantial populations of Roma. The level of integration of Roma into society remains limited. In these countries, they usually remain on the margins of society, living in isolated ghetto-like settlements (see e.g. Chánov). Only a small fraction of Romani children graduate from secondary schools, although during the Communist regime, at least some of Warsaw Pact countries forced all children to attend school, and provided them, like other citizens, with all required basics such as textbooks and the compulsory uniform. Many Roma have faced discrimination and prejudice from both private groups and national Governments.
In 2004, Lívia Járóka and Viktória Mohácsi of Hungary became the two current Roma Members of the European Parliament. The first Romani MEP was Juan de Dios Ramírez Heredia of Spain. Seven former Communist Central European and Southeastern European states launched the Decade of Roma Inclusion initiative in 2005, a ten year program whose aim is to improve the socio-economic conditions and status of the Romani minority.
Roma in the Holocaust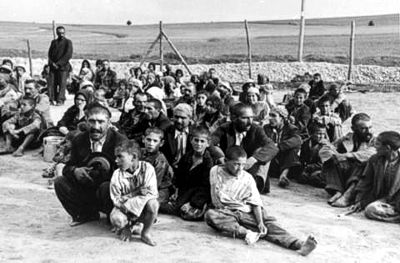 The Roma were stripped of German citizenship by the Nuremberg laws and were soon made part of the "Final Solution," with some Roma transported to share the fate of the Jews in the Warsaw Ghetto. Roma were massacred by the Einsatzgruppen in Eastern Europe and the Soviet Union, and were deported to concentration camps. The extermination of the Roma by the Nazis and their allies has been named in the Romani language the Porajmos, loosely translated as "the devouring". Estimates of the total number of Roma killed during the Holocaust range from 220,000 to 1.5 million.
More than 20,000 Roma were deported to the Auschwitz death camp where Dr. Josef Mengele took a special interest in them, studying medical conditions including "noma" which ate away the cheeks of malnourished Roma children. In early August 1944, Auschwitz administration decided to exterminate the entire Roma population of the camp, and with Mengele's assistance about 3,000 people were sent to the gas chamber.
Information and pictures courtesy of Wikipedia.