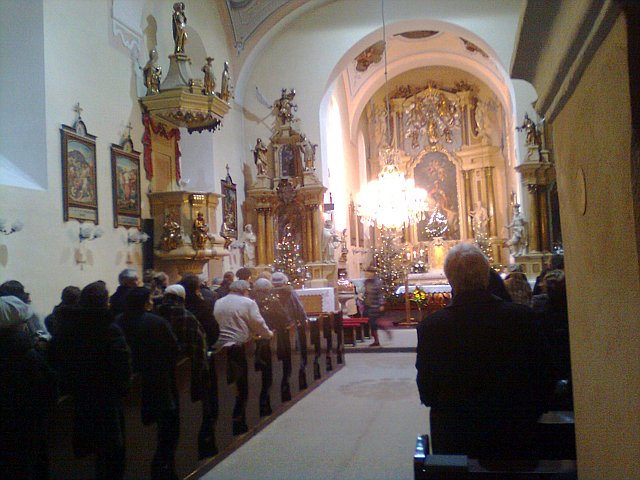 On Saturday evening of last week I took a group of my Roma believer friends to a city just across the Slovakian border to a special religious service. This was described to me to be a sort of memorial service for a family member who had died the previous year. The service was held in the town's Catholic Church and to give you a sense of what this was like for me, I was with friends but I had no translator and was completely out of my element, religiously. I drove to the home place of my Roma friends and was treated very respectfully and enjoyed a visit in one of their homes and after a while we traveled on to the church where the service took place.
It was a cold wet night in Holic, Slovakia as we met other family members in front of the church and after a bit, we all went inside as the service was starting. As I sat there observing the service and soaking up the experience of it all, a few thoughts came to mind. I will try to express a few of them here. Look at the picture. It is not the best photo because I took it with a cheap cell phone but it still shows the beauty of the inside of the church. Try to imagine what it would be like for you to sit there and try to understand what was going on… when you don't understand the words being spoken.
So, I took notice of how the people (for the most part) were very reverent as they came and went. The interior of the church was very old but very beautiful and ornate. The priest conducting the service was obviously a little sick (physically)  but he was serious and led things in a dignified fashion. The music and singing was beautiful and there was a defined order to what was going on. I noticed that some people came in and crossed themselves quickly and appeared to be going through the motions of worship while others came in and seemed very focused and determined to honor and worship God. In my thinking, even though my Roma friends are not "Catholic," they came to this place to show honor and respect to their heritage and most of all, their dear departed brother. I must assume that in this family's past, they had some Catholic background or heritage.
So, what say ye? If you are reading this and you are NOT Catholic, do you think this was appropriate? Can a person be… let's say… Baptist or Methodist and appreciate the beauty of such a service without necessarily agreeing with every point of doctrine? Hmm… good food for thought. Let me quickly say that in our denomination there are plenty of people who also go through the motions of religion without actually making a focused effort to worship the One true God… and quite often they do it with far less reverence. So, to wrap up this thought process, let me say that in my opinion, the most important thing for any of us to do is to seek a honest dedicated faith relationship with Jesus, the Christ and not spend too much time arguing over religious tradition… the Lord knows we all have our traditions… all of which have merit and also areas which can be improved upon. In my simple way of looking at things, if a person (any person) accepts the Lord Jesus as their Savior and places their faith in Him only… well, then who am I to become their judge and flippantly condemn them to hell because they do not fall under the same denominational label as myself. God is the judge of us all and I for one will let Him take the judges job. Again, let me be clear… there are some non-negotiables with regards to salvation and these things are pointed out vividly in scripture. For your reference, you may want to examine these verses: Romans 3:23, Romans 6:23, John 3:3, John 14:6, Romans 10:9-11, 2 Corinthians 5:15, Revelation 3:20 and Ephesians 2:8-9. God bless you and I challenge you to show respect in "your" religion… then simply share the Good News and see what happens.